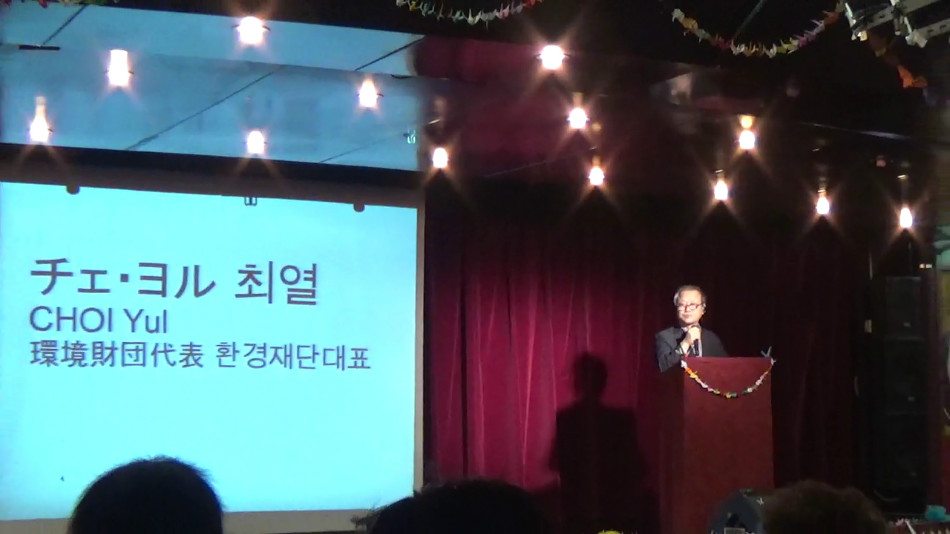 Photo: Korea Green Foundation President Choi Yul calls for negotiations for a nuclear ban treaty aboard the Peace & Green Boat.
The Korea Green Foundation and Japan's Peace Boat, co-organizers of the Peace & Green Boat, announced a joint statement on August 5 calling for an immediate launch of negotiations for an international treaty to ban nuclear weapons.
The Korea-Japan Joint Communique was issued at the "Toward a Nuclear-free World, From Nagasaki" event held onboard the cruise ship at the Japanese port.
"It is our duty to our future generations to create a nuclear-free world," the statement declared. "The inhumane destruction of Hiroshima and Nagasaki left with us an obligation to make sure that nuclear weapons should never be used again."
In his address, Korea Green Foundation President Choi Yul said, "The Peace & Green Boat, which marks its ninth voyage this year, has pursued solutions to issues of the environment, peace and human rights through various cultural programs."
"Northeast Asia's collaboration and endeavor will continue to prevent the tragedies of Hiroshima, Nagasaki and Chernobyl from happening again," he added.