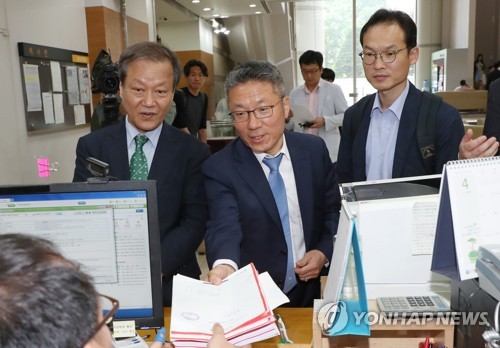 A survey in March showed Seoul had the second highest air pollutant concentration in the world. In the first quarter of this year, 130 fine dust and ultrafine dust advisories were issued, nearly double those issued in the same period last year.
As part of efforts to better fight harmful particulate matter pollution, Korea Green Foundation President Choi Yul, former Agriculture, Food and Rural Affairs Minister Kim Sung-hoon and five others filed a lawsuit against the governments of South Korea and China over damage caused by fine dust.
"Korea suffers serious damage from fine dust but China does not make sufficient efforts to control pollutants," Choi said in the suit filed with the Seoul Central District Court.
"The defendant, China, as a member of the international community, is obliged to control pollutants within a permissible level but it did not. This is a violation of the international norm," the group of plaintiffs claimed.
"The defendant, the Republic of Korea, even fails to identify the cause of fine dust. It has neglected its duty to protect the people's rights to safety and the pursuit of happiness, incurring severe damage to the plaintiffs," they added.
They held a conference on April 21 to discuss how to tackle the fine dust problem. They plan to expand the legal action with the participation of 91 citizens including housewives and students.