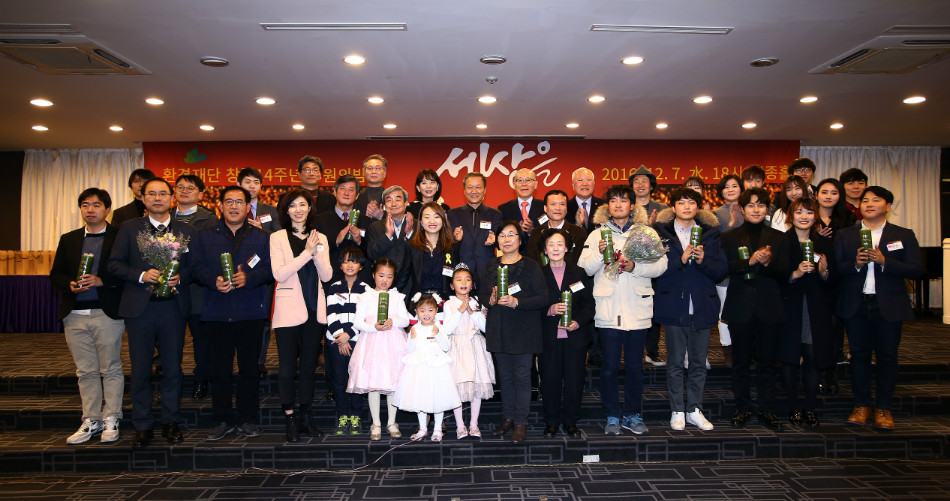 (photo) The winners of
"
2016 People Who Brighten the World
"
awards pose for a photo.
The Korea Green Foundation held an awards ceremony for the "2016 People Who Brighten the World" and the Green Night at Sejong Hall at 6 p.m. on December 7. A total of 19 teams received the prizes in the categories of volunteer activity (4), environment improvement (2), overcoming hardships (2), culture & talent donation (4) and social innovation (7 teams).
More than 200 people including the winners, their families, politicians, businessmen and individual supporters participated in the ceremony.
In the field of environmental improvement, the Asian Citizens' Center for Environment and Health, which revealed the problems of toxic humidifier disinfectants, and Leonardo DiCaprio won the prizes.
The highlight of the ceremony was the one million citizens' candle protest. The candle-lit demonstration, which produced a peaceful, orderly and garbage-free protest culture, was hailed as a symbol of the victory of democracy over an unjust, self-righteous and arrogant state power. The prize was granted to children present at the ceremony in an impromptu decision.
The "People Who Brighten the World" awards are given to individuals and groups who shed light on the dark sides the society through sharing and dedication, challenge and passion, pleasant laughter and heart-touching acts through the year. 2016 marks 11th year since its inception in 2005.