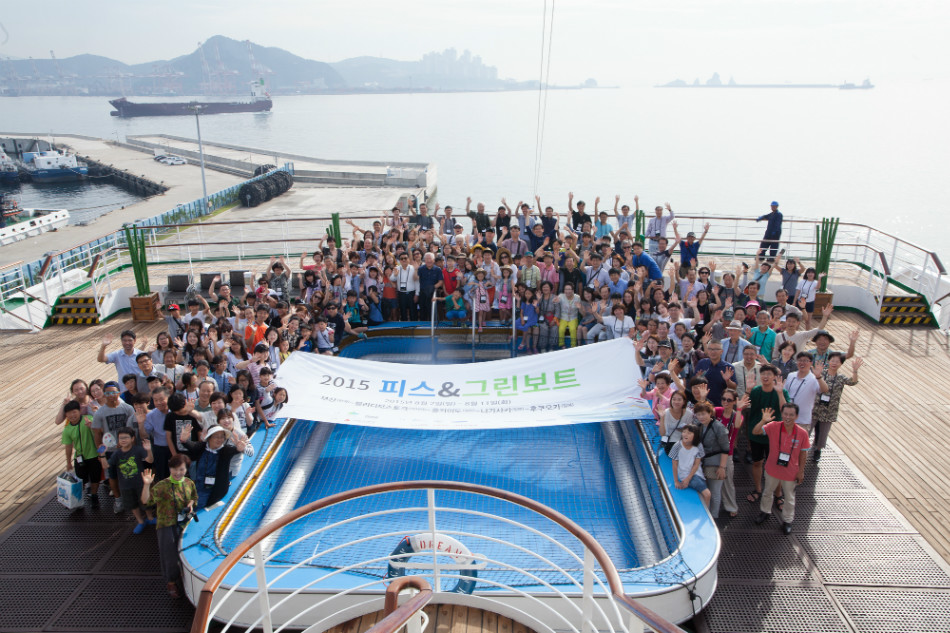 Photo: Participants from Korea and Japan are sailing on the Peace & Green Boat
The '2016 Peace & Green Boat' which is the 9th event starts its journey from July 30 to August 7. This cruise program for travel and exchanges is co-hosted by Korea Green Foundation and Japan's Peace Boat to deal with social, cultural and environmental issues of Northeast Asia with open perspectives to find solutions.
This year, with the theme of "Respond 2030, New history of three Kingdoms in the climate change aera – Search for tomorrow of Asia", 550 Koreans and 550 Japanese will have a cruise journey that weighs 35,000 tons. They are scheduled to leave Busan to go to Shangshai of China, Okinawa, Nagasaki and Fukuoka in Japan.
Novelists, Kim Young-ha and Eun Hee-kyeong and architect Cho Jin-mahn, Korean traditional clothes designer, Lee Hyo-jae, photographer, Yoon Gwang-jun, Magician, Bubble Dragon, head director of Peace Asia and other celebrities will give lectures or participate in discussions on environment, history and culture.
More than 100 programs are prepared including '2030 on-board eco-forum', a variety of Korea-Japan exchanges, performances by singers called Yojo and Lee Han-cheol, Bubble Magic Show and 'on-board leadership course' for enhancing expertise of government officials and 'on-board school for children' for future generation.
Head of Korea Green Foundation, Choi Yul, said, "Peace and Green Boat is a program where Korean and Japanese citizens travel together to visit historic sites and search for answers to how to live in this climate change era. I hope this special cruise can continue, overcoming the differences between the two countries as it is a good opportunity to realize importance of environment and peace and make future and hopes of Asia together."
Peace & Green Boat was first launched in 2005 and 6,518 participants from Korea and Japan including students from elementary school to university, youth and adults, opinion leaders, entrepreneurs, government officials and artists had visited 36 places that are beautiful and historic and there have been more than 1,500 events such as performances and lectures.